| | | |
| --- | --- | --- |
| A well regulated Militia being necessary to the security of a free State, the right of the people to keep and bear Arms shall not be infringed. --Amendment II, US Constitution | | The right of no person to keep and bear arms in defense of his home, person and property, or in aid of the civil power when thereto legally summoned, shall be called to question; . . . --Article II, § 13, Colorado Constitution |
The Voice for Firearm Rights in the Pikes Peak Region

PPFC Membership Meetings

(Open to the public)
Second Thursday of the Month
7:00 PM
VFW Post 4051
430 E Pikes Peak Ave
Colorado Springs, Colorado

NEXT MEETING

June 13, 2013

EPSO Deputies Duda & Murphy
El Paso Sheriff's Office
Cadet Program

Neal Schuerer
Rep. Lamborn's Office
Federal 2nd Amendment and
Sportsmen Issues

Read Sheriff Maketa's Statement on Gun Control

Pikes Peak Firearms Coalition Co-Sponsors
a great event with
DAVID KOPEL
Purchase tickets on-line at:
http://secondamendmentcs.eventbrite.com
or

What programs would you like to see
at PPFC meetings?
Read Letter from PPFC Program Director Bill Seifert

NEW: Join or Renew online using PayPal Secure Website to pay your dues

NRA Women On Target
Instructional Shooting Clinic

Sunday, September 29, 2013
8:30 AM - 4:00 PM

Classroom Instruction
Range Instruction


Local Sponsors:

Pikes Peak Firearms Coalition

Colorado Springs Muzzle Loaders

This one day clinic is designed to introduce women to the shooting sports, firearm safety, and programs available for more training. It is designed and run by women for women. The cost is only $25 and that includes all course materials, lunch, range fees, eye & ear protection, use of a firearm, and ammunition. Certified NRA instructors conduct the clinic. Class size is limited.

Our Billboard!
(Click on image for larger view)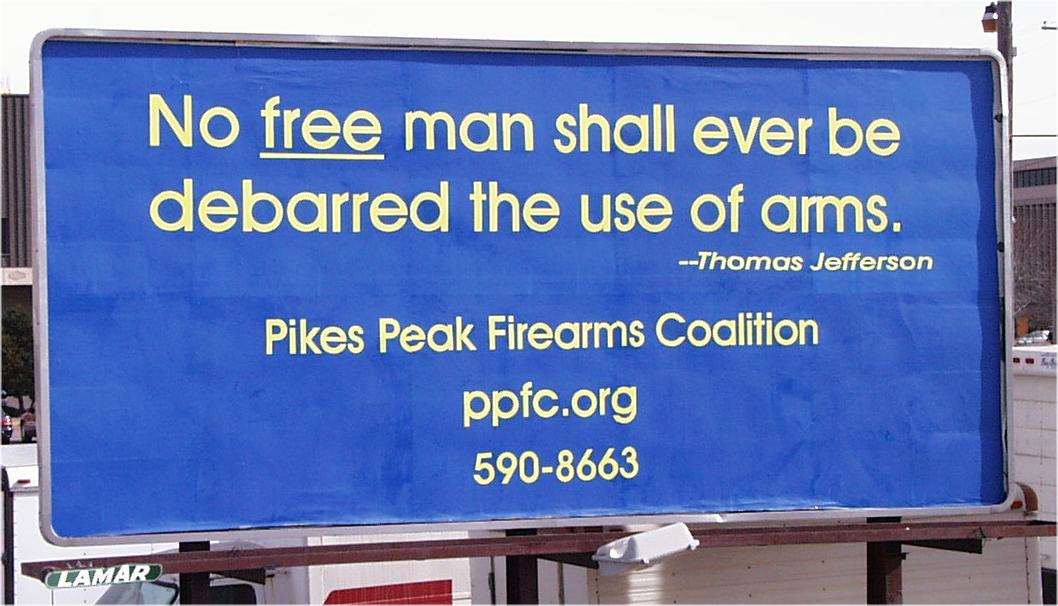 Pikes Peak Firearms Coalition, Inc.
A Colorado Nonprofit Corporation
PO Box 17253
Colorado Springs, CO 80935-7253

Send comments or suggestions to: Webmaster
Copyright © 1999 - 2013 PPFC
All Rights Reserved

Warning and Disclaimer

The links on this site provide additional information that may be useful or interesting and they are being provided consistent with the intended purpose of this site. However, the author(s) of this site cannot attest to the accuracy of information provided by external links or any other linked site. You are subject to that site's privacy policy when you leave this site. The information provided using this site is only intended to be general summary information to the public. It is not intended to take the place of either the written law or regulations.


the Right to Keep and Bear Arms webring